DPR Korea and UN Resident Agencies Celebrate 70th Anniversary of the United Nations
UN Resident Coordinator, UN staff and representatives of DPRK Government on UN Day 2015.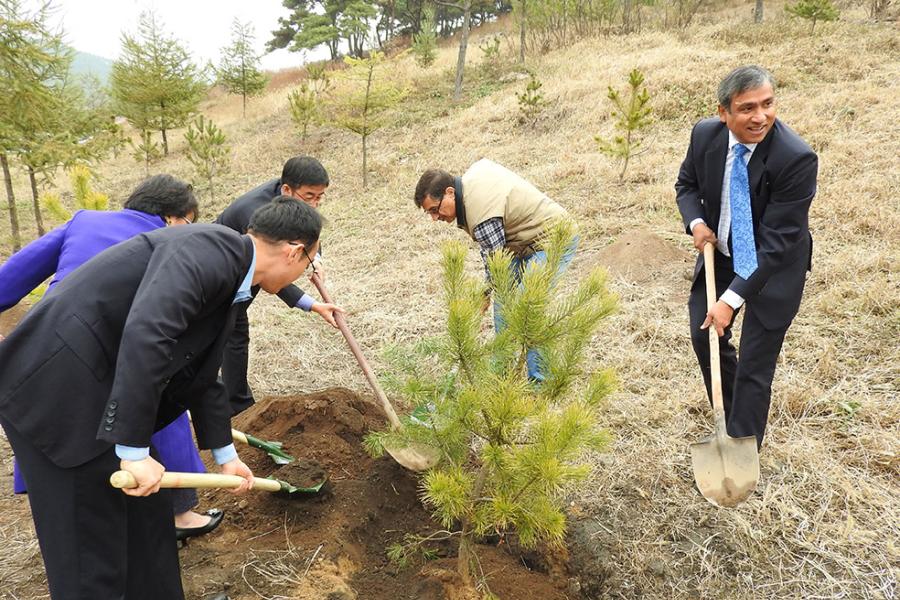 Seven decades after its founding, the United Nations remains a beacon for all humanity. Every day, the United Nations feeds the hungry and shelters those driven from their homes. The United Nations vaccinates children who would otherwise die from preventable diseases. The United Nations defends human rights for all, regardless of race, religion, nationality, or gender. The United Nations works for the entire human family of seven billion people, and cares for the earth, our one and only home", the UN Resident Coordinator, Mr. Tapan Mishra, said addressing the audience gathered to celebrate the 70th anniversary of the UN on United Nations Day 2015 in Pyongyang.
The day of celebrations highlighted the work done by the resident UN agencies; FAO, UNDP, UNFPA, UNICEF, WHO, and WFP, as well as non-resident UN agencies. In the spirit of the launch of the Sustainable Development Goals UN staff, DPRK Government representatives, and the international community came together for a symbolic tree planting event. This was followed by a visit of the UN agencies to the local school of the international community where they discussed the pupils' views of the UN and the future.
During the evening reception the resident UN agencies showcased their programmes to guests including Vice Minister of Ministry of Foreign Affairs, Mr. Pak Myong Guk, officials from the Government of DPRK, members of the diplomatic community, humanitarian partners, and their families.
On behalf of the UN community Mr. Tapan Mishra reaffirmed its commitment to the wellbeing of the people of DPR Korea as will be captured in the new UN Strategic Framework that is under development.
UN entities involved in this initiative
OCHA
Office for the Coordination of Humanitarian Affairs
UNDP
United Nations Development Programme
UN ESCAP
United Nations Economic and Social Commission for Asia and the Pacific
FAO
Food and Agriculture Organization of the United Nations
WHO
World Health Organization
UN Environment
United Nations Environment Programme
UNIDO
United Nations Industrial Development Organization
UNESCO
United Nations Educational, Scientific and Cultural Organization
UNFPA
United Nations Population Fund
UNICEF
United Nations Children's Fund
UNOPS
United Nations Office for Project Services
Goals we are supporting through this initiative