Story
DPR Korea Needs and Priorities Plan 2020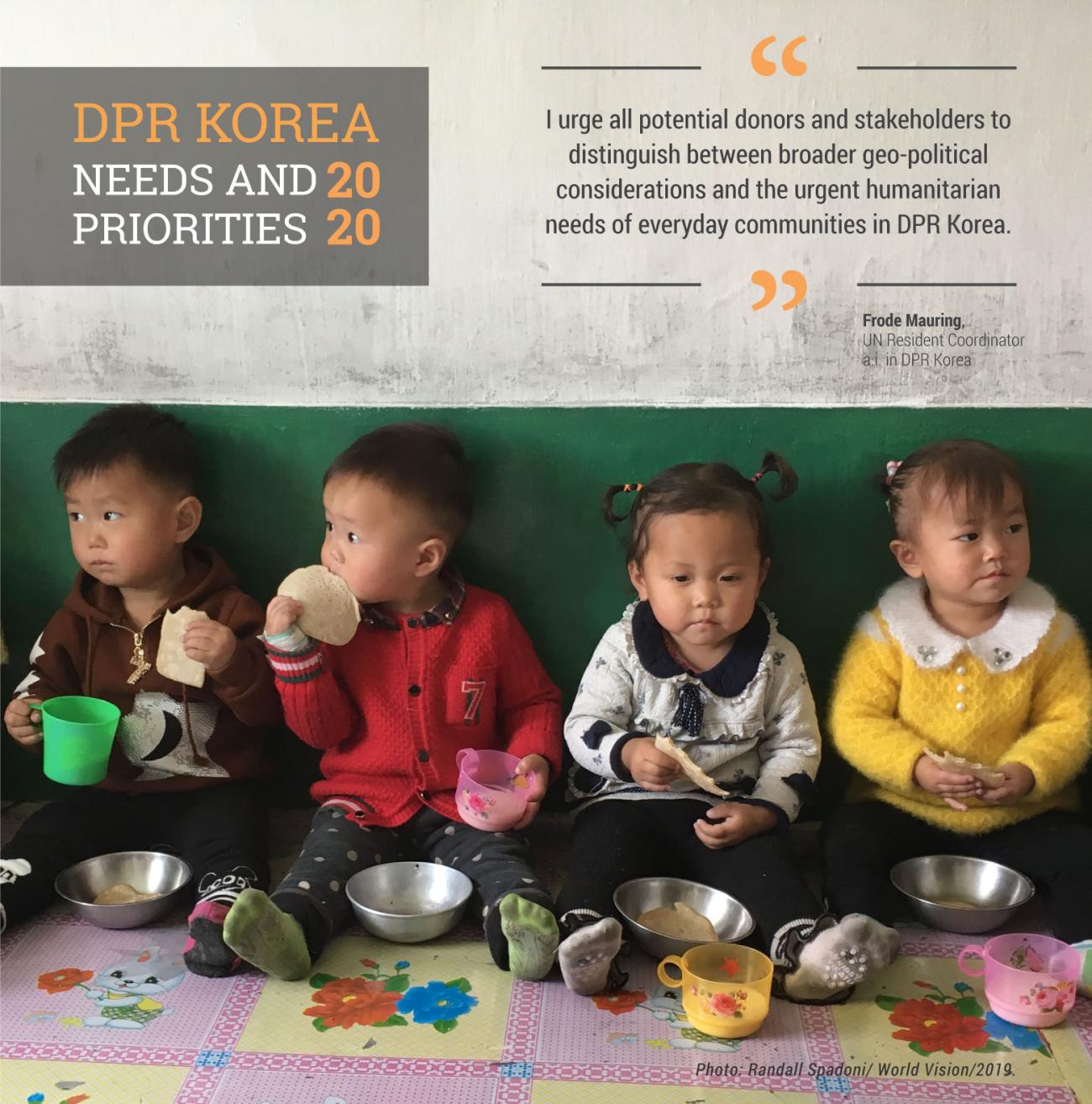 The Needs and Priorities Plan, released on 22 April 2020, outlines the funding required by humanitarian partners for targeted assistance to 5.5 million people.
Humanitarian partners in DPR Korea are appealing for a total of $107 million to provide critical life-saving assistance to millions of people in urgent need of humanitarian assistance.
The 2020 response plan has been developed by humanitarian agencies, under the globally adopted enhanced Humanitarian Programme Cycle (HPC) approach and has strictly prioritized the provision of comprehensive support to those most vulnerable, namely children under-five and pregnant and lactating women.
In-country humanitarian operations in DPR Korea are a critical lifeline for millions of people in this protracted humanitarian situation. Prioritized humanitarian interventions in 2020 are activities to enhance food security, provide urgent nutrition support and increase access to quality and essential health services, clean water and sanitation.
Notably, 10.1 million people suffer from food insecurity and are in urgent need of food assistance. Food insecurity in the country is driven by a lack of access to modern agricultural equipment and techniques; and is amplified by recurrent natural disasters and the impacts of climate change. The prevalence of under-nutrition and malnutrition are a major concern for communities in DPR Korea. An estimated 10.4 million people are in urgent need for nutrition support, threatening a generation of children with reduced development and life opportunities. In addition to food insecurity and malnutrition, needs analysis data for the upcoming year reveals continued and acute humanitarian need across other sectors, including access to quality and essential health services, clean water and sanitation.
In addressing humanitarian needs in 2019, donors support for UN agencies and INGOs allowed humanitarian partners to reach 2.5 million people with humanitarian aid. In 2020, the Needs and Priorities Plan specifically outlines all the humanitarian sectoral interventions, which aim to reach 1.3 million people with food assistance, 2 million people with nutrition support, 5.5 million people with health services and improve access to water and sanitation for over 300,000 people.
However, increased funding is needed to make a sustainable impact on the lives of the most vulnerable people in the country. In his Foreword, the RC a.i. urged "all potential donors and stakeholders to distinguish between broader geopolitical considerations on the one hand, and the urgent humanitarian needs of everyday communities in the country on the other". Without the necessary support, humanitarian partners risk losing the advances they have made in recent years. To limit and mitigate the impact of food insecurity of the most vulnerable in the country, including women and children, the time to act is now.