Story
DPR Korea advocates for investing in teenage girls on World Population Day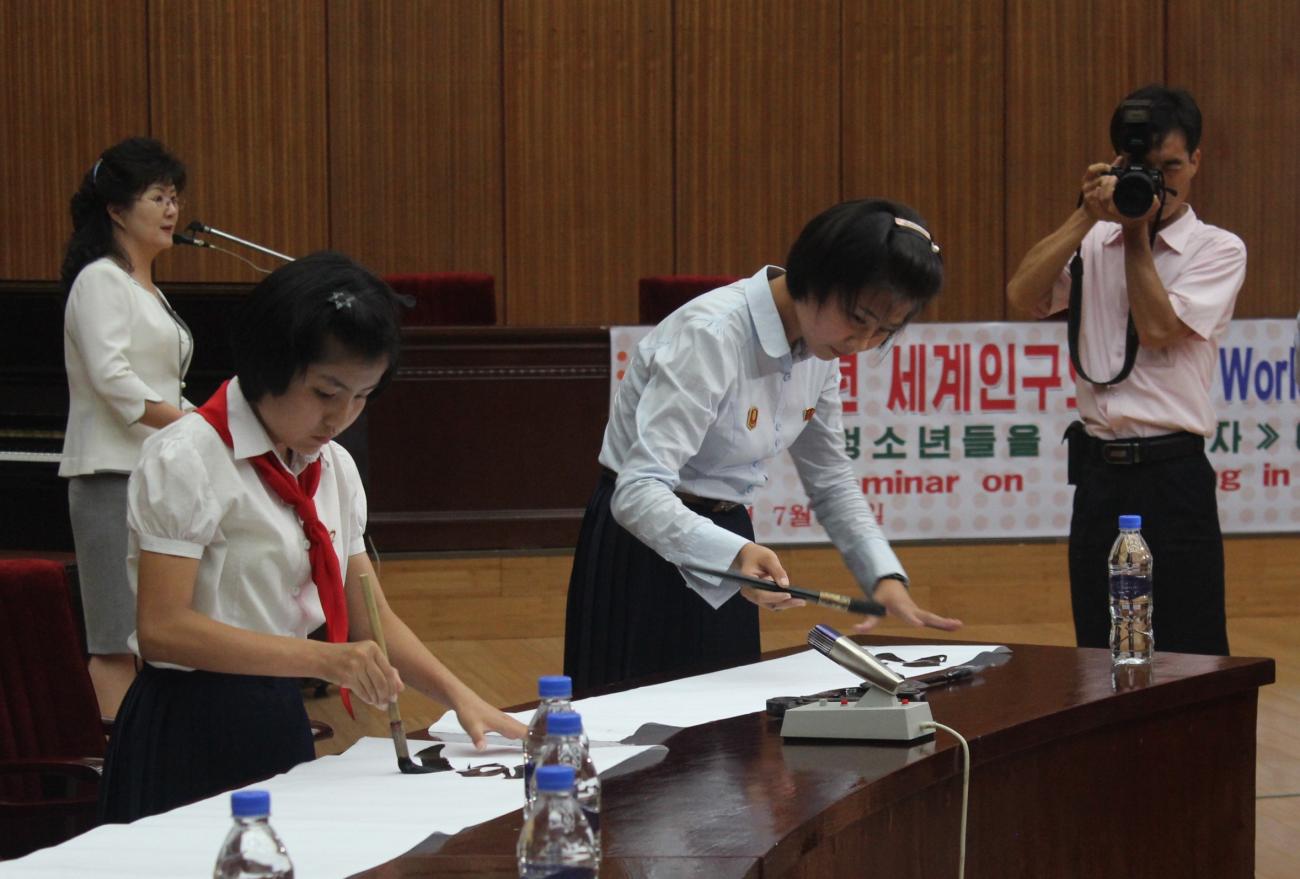 Award winning teenage girls showcase their calligraphy talent during World Population Day, Pyongyang 2016.
"Protecting the rights of young people and ensuring universal coverage of quality education and reproductive health services for them is important in national development and in the development of families and society," the Director of External Affairs in the Ministry of Public Health of the DPR Korea, Dr. Pak Jong Min, declared during a seminar to mark the World Population Day 2016 in Pyongyang.
The 2016 World Population Day's theme was investing in teenage girls – urging countries to consider better ways to provide them with education, health and development opportunities with gender equality in mind.
In the seminar, Dr. Pak Jong Min stressed the problems faced by teenage girls globally, saying up to 32 million girls aged 15 to 19 have unsafe abortions each year in developing countries, and that one of the leading causes of death among teenagers is complications during pregnancy and childbirth.
"Protecting the rights of young people and ensuring universal coverage of quality education and reproductive health services for them holds an important position in the national development as well as in the development of families and the society."

"Recently the government of the DPR Korea has taken a measure to establish a social environment of valuing young people…and is making strenuous efforts to ensure that all young people have quality and useful knowledge…In addition the government is making every effort to provide reproductive health information and comprehensive reproductive health services."
I am confident that [this event] will be a good opportunity to accelerate the achievement of the Sustainable Development Goals set by the United Nations by increasing social commitment to investing in young people and providing them with quality education and reproductive health services in our country." Dr. Pak added.
Also speaking during the event, the UNFPA International Programme Coordinator, Ms. Ulrika Rehnstrom, emphasized the role of policy makers in ensuring that human rights are universal and enjoyed by all, including teenage girls.
"Teenage girls make up about 7 percent of the total population of DPR Korea. There is need to focus more attention on reaching these teenage girls - investing in their education, health, particularly reproductive health, and other measures to engage them in the process of improving their own lives," Rehnstrom said.
Ms. Rehnstrom added that investing in youth should be viewed as investment for the future, not an expenditure. "Teenage girls' needs and rights should be considered in DPR Korea's development agenda… by joining forces and working together, I believe no goal is too high to achieve." She stated.
At the event, several presentations were made by key institutions working with teenage girls in DPR Korea. A presentation by a teacher at a Junior Middle School in Phyongchon District of Pyongyang, Ms. Hong Jong Gum, highlighted the inclusion of physiological changes in adolescents and women's health in the health education curriculum for junior and senior middle schools in DPR Korea.
According to a presentation made by the Chief of Statistics Research at the Population Centre, Mr. Ri Kang Jin, there are approximately 1.8 million teenage girls in DPR Korea, representing 14 percent of the total female population.
The commemoration, which was held in the People's Palace of Culture in Pyongyang, was attended by a cross-section of approximately 150 participants, which included 25 teenage girls and representatives of key government departments, members of the diplomatic community, UN agencies and the media.  
Award winning teenage girls at both national and international contests showcased their talents during the event, which included calligraphy, sketching, and music performances. This is the first time young people have been involved in World Population Day activities in DPR Korea.
UN entities involved in this initiative
UNFPA
United Nations Population Fund